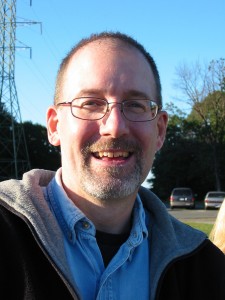 From humble beginnings in 1985 to today's full service sound & lighting dealer – it's been a long and interesting journey for president and owner Glen Aliczi.
"I was one of those AV tech geeks in high school! Even after a couple of years of college, I knew I always wanted my own business, so in 1985, Pro Systems (the original company name) started in my garage – with a single sound system that I would take out to nightclubs and other venues and provide sound for local bands."
The company incorporated in 1988 and moved out of the garage and into a tiny little 500 square foot facility on Glen Rd. in Manchester right next to the school bus company. Glen added a few lights to provide lights to the bands he worked with. Business was beginning to take off!
Then, in 1989, Glen met his future wife and business partner, Kim. She quit her job selling insurance a few months later and began working with Glen full time, helping with advertising and marketing – and became affectionately known as the "Lamp Lady", because she single-handedly developed the sales aspect of the business, beginning with replacement lamps for theatrical lighting fixtures. Glen and Kim were married  a little over a year later.
Business grew, bands no longer needed or could afford to hire sound companies for their nightclub gigs, and Pro Systems, Inc. changed their business focus AND their company name to ALSS – Advanced Lighting & Sound Solutions, to more accurately reflect what the business did.
Shop locations have varied over the past almost 30 years – from Glen Road was Sheldon Rd by the post office, then over to Chapel Rd near the South Windsor border when the business got too big. Forced to move to Slater St.  when the Chapel Road location was being sold, that location served the business as best it could – until finally, in 2011, an ideal location was secured on Sanrico Dr. – just down the street from where the Sheldon Rd. office was, which is where ALSS stands today – boasting a beautiful, big & bright showroom and plenty of storage space, customer parking, and easy access from I-84.
One thing has never changed since 1985 – and that is the unmatched customer service ALSS strives for.
"Our customers are like family" says Glen. "No matter how big your business gets, customers want to know they are important. We work very hard to make sure all of our customers know that."
Think you have what it takes to be part of the ALSS crew? We're always looking for seasonal, part-time, and other help. Contact us to fill out an application and send us a resume! ALSS is an Equal Opportunity Employer.